Connection between Geo and Humans
Arafune Wind Cave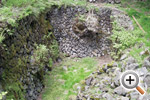 This was built in 1905 as a storage facility for silkworm eggs utilizing the cool wind that blew from the talus slope of the Yashiki district. From the end of Edo Period up to Meiji Era, raw silk was the major source to draw foreign cash. The wind cave played a very important role to keep the silkworm eggs at a low temperature and adjust the incubation timing. This made it possible to cultivate silk a number of times during the year and drastically increased the cocoon and silk production.
Nakaosaka Iron Mine
It is believed that the heat from the magma impacted the formation of the mineral deposit in this iron mine. Iron manufacture started during the Edo Period and there are records indicating the fact that the iron from Nakaosaka iron mine was transported to the Nakaminato  reverberatory furnace built by the Mito Domain at the end of the Edo Period. It is believed that full-fledged operation of the Western-style shaft furnace started in 1874.
Ontake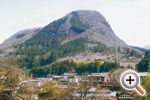 There are many stonework motifs found in the mountains of Shimonita Town that indicate the area's mountain worship traditions. Ontake is one of the places with stonework that dates back to the end of Edo Period. The tradition of worshipping mountain in this area is called Fukanko and is believed to be passed on from Chichibu region. The three deities of Ontake can also be seen at Ozawa-dake, Kongo-no-kaya, Mount Akiba, Mount Yotsumata, Mount Nikkure (Hatsudori-ya), Mount Kannari (Kanohara).