Formation of the Rootless Mountain

The picture above captures the view of the mountains in the south from downtown Shimonita. These mountains are called klippes or rootless mountains. The base of the mountains is supported by the blue rocks that spread in Aoiwa Park and the chart deposits seen in Oku-kuriyama. The stratum shown in orange that moved from elsewhere covers the base strata, part of which has been removed through erosion by a river to form the klippes.

Klippes are comprised of geological strata from the Cretaceous period (approximately 80 million years ago) and tonalite, an intrusive rock formed by cooled and solidified magma during the Permian period (approximately 270 million years ago). The thrust faults seen in the Alpine and Himalayan mountain ranges are attributed to continental collision but many of the details of the formation of Shimonita klippe are still unknown.
Slide Surface of Atokura Klippe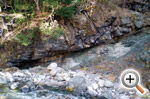 This shows the division between the rootless mountain and the base. The base is revealed below the line that diagonally runs through the cliff. The portion above the line is the stratum that has moved from elsewhere. At this geo-site, visitors can touch the "scars" that were formed upon the formation of the klippe.
The "root" of the klippe can be partially observed at the downstream since the river has eroded part of the basal stratum.
Folds of Okuwahara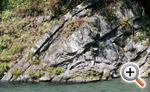 Here visitors can observe the alternating layers of sand and mud that form the Atokura Klippe. The prominent V-shaped pattern in the stratum reveals that a huge amount of pressure was applied when the stratum moved to form the klippe, significantly compressing the layers that used to be horizontal. Miyamuro reverse layers show a more drastic transformation where the top and the bottom layers reversed due to a much stronger force.
Miyamuro Reverse Layers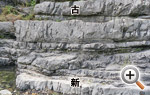 Here visitors can observe the top and bottom layers that reversed due to strong pressure and compare them to the original layers. In addition to signs of erosion caused by water, the reversed layers include holes and tracks that indicate the presence of marine life in the past when the area was under water.
Fudo Falls of Maita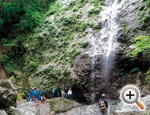 This impressive waterfall that is 25 meters high was formed by one of the geological strata that make up the klippe, composed of tonalite from 270 million years ago. The solid property of tonalite had enabled the formation of waterfalls.
The slide surface of Atokura Klippe can also be observed here from the upper stream.